Airport Shuttle Service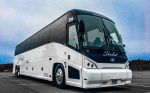 Address:
618 West 41st Street
55746
Bus. Category or Categories:
Short Business Description:
Shubat Transportation provides motorcoach, school bus, van, and shuttle transportation for groups of all sizes. We operate 24/7/365.
Long Business Description:
Shubat Transportation has been providing bus service in Northern Minnesota since 1914. Our fleet of vehicles consists of motor coaches, ranging in capacity from 25-56 passengers, 50-passenger school buses, 14-passenger mini-buses, and 6-passenger vans. Our team of professional drivers will get your group to their destination safely.
We are located in Hibbing, MN, just minutes from the Range Regional Airport (HIB). Call 1-888-874-8228 or email info@shubat.com for a quote or more information.